PCB Repairs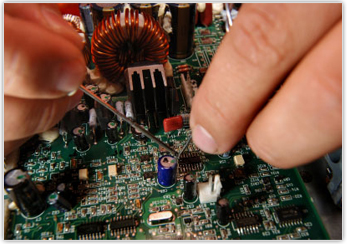 In 1993 HV pioneered in Third Party PCB Repairs & Service for Schlafhorst Autoconer M/c. HV entered the field of Electronic Repairs with a vision to provide comprehensive repairs & services of most complex circuit boards in the industry. The dedication and specialization in Schlafhorst Autoconer PCB repairs on repairs has paid us over the years. Although we have limited our repair & services to Schlafhorst boards, our market is not limited. We have customers in Exports too sending us consignments of PCB repairs for Schlafhorst Autoconer. This speaks volume about our expertise and quality in repairs.
Our team of qualified electronics engineers have the necessary experience and expertise to provide Fast, Reliable and Cost effective alternative to Original Equipment manufacturer. We have complete set up of full fledged repair centre with variety of own designed simulators, Automated test equipments, and realtime testing of boards after repairs. Through reverse engineering, we have developed circuit diagrams and simulators for each PCB's that we repair.
Apart from test equipments and man power, we make sure that repair works are carried out with utmost care to maintain the condition of boards. We never undertake trial and error repairs at the cost of customers. All re-works are done with best in class soldering-desoldering equipments and with extra care. Further, We use only Imported Genuine Class 'A' electronic components. All active & passive components are imported from world renowned electronic component suppliers. We have component inventory of more than 5000 parts, many which are hard to find and obsolete. Also our team is assisted with exhaustive library of components and datasheets, a must for repair centre. We are open to share any informative material with our customers. We also support customers to source obsolete and hard to find type of components.
Motherboard Repairs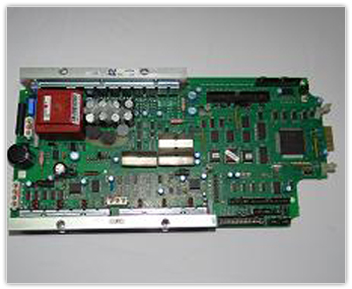 complete repairs & services for Oerlikon Schlafhorst Autoconer 338 RM/D/K type Motherboards. We have complete customized test bench setup at our repair facility. We have successfully repaired motherboards for mills in India & abroad as well. We also have successfully repaired BEYOND SERVICE cards refused by Oerlikon. With a record turn around time, our customers themselves have named us 'MASTERS IN MOTHERBOARDS' repairs.

Some of the major technical faults detected and repaired include:
Pilot Drive (Cycle Motor) Overload.
Pilot Drive continuous running problem and Null Sensor Problem.
Drum Drive Blockage Problem.
Tension Section Problem.
Wax Drive, Drum Displacement Drive and Tension Motor Problem.
Winder Access Problem.
Interface Problem.
Internal Technical Blockage.
Power Supply Circuit failure.
Memory failure & Reprogramming.
EYC time out.
We have necessary experience and expertise for motherboard repairs aided with proper tools & equipments necessary to carry out repair job. We DO NOT do any trial error repairs on boards. After repairs, we have a complete spindle set up to check the motherboard. Thus once repaired and sent to customers, there is 'Zero' rejection.
Motor Repairs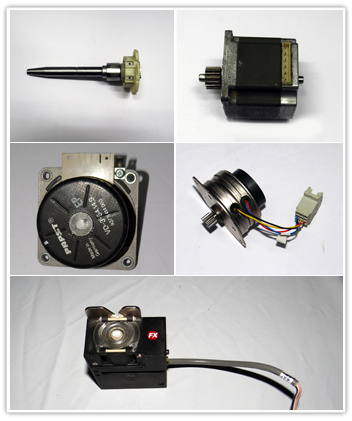 Apart from PCB repairs and services, we also provide valued repairs services for all types of Step Motors, Synchronous Motors, Cycle (Pilot) Motors, Drum motors etc. We are the only company in India provide extensive motor repairs for Schlafhorst machines.
We service all motors at our in-house repair & testing lab, where your motors is repaired and returned to factory specifications. We focus on quality workmanship, customer service, lightning fast turnaround. Our technicians are experienced and certified motor repair specialists, which is why we diligently run-test every repair and confidently return it with Warranty.

Below are regular Schlafhorst motors that we repairs:
Drum Motors For AC 238
Drum Shaft & Motor housing for AC 338 / X5
Pilot Motor for AC 238
Pilot Motor for AC 338
Waxing and Tension Synchronous Motors for AC 238
Waxing and Tension Step Motors for AC 338 / X5
Propack and Magazine Step Motors for Ac 338 / X5
Conveyor Motors and Dust Fan Motors
Although we specialise for Schlafhorst Autoconers, but our expertise can extend to other brand of motors as well In short :-
Dedicated service at all times – 24 hours a day, 365 days a year, HV is there when you need it.- In house facilities – all motor repairs performed by trained specialists- Massive inventory of parts on hand.– Post-Repair Services – All motors are run-tested in our lab before being returned with Warranty.
Miscellaneous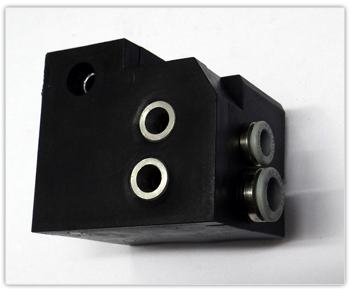 Aparts from PCB repairs and motor repairs, we also extend our service area to many other critical parts for Schlafhorst Autoconers like Pneumatic Valve repairs etc.

We specialize in complete repairs of Splicing Valve, Magnet valves and Cylinders for Schlafhorst Autoconers. We completely open the splicing valves and repair with complete new kit of spare parts thereby giving a performance as good as brand new.
Our customers never need to purchase BRAND NEW valves from OEM, as we repair and provide quality performance as good as brand new. Also we specialize in repairs of Damping Cylinders for Autoconer 338 / X5.
With excellent quality repairs and faster turn around time, we are always first choice of our customers. We are HV – 'OEMs envy, Customers Pride'.