About us
H Vinodrai & Co. – well known in the industry as HV – is a market leader in Schlafhorst Autoconer replacement spares & services. The customer is king at HV since 1966. With continuous spare development, comprehensive spares range and customised service solutions for spinning mills, HV puts customers and their requirements at the centre of its business. At HV, we work with a singular passion of customer satisfaciton. When it comes to Autoconer replacement spares, HV has always been a First Choice of its customers. HV is truly a reliable business partner that embodies best business practices and high quality standards from products to services.
Global & Domestic Presence
With Autoconer machines spread all over the world, HV proudly boasts of exporting to more than 34 countries world wide with major exports to Europe, South East Asia, Latin America and Middle East. Within India, HV has more than 250 satisfied spinning mill customers ordering autoconer parts on daily basis. Being one stop shop for all Autoconer replacement spare & service needs, our customers enjoy doing business with us, as they never have to look any further.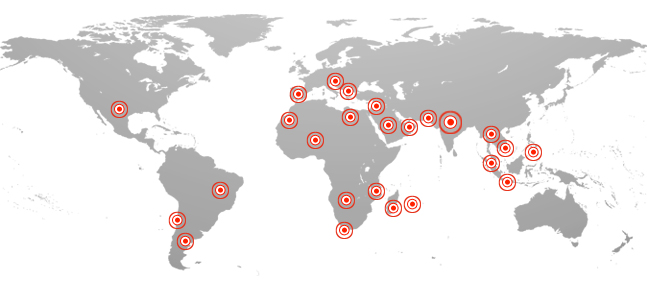 Manufacturing & Services
We have well equipped engineering workshop with all varieties of workshop machinery to produce machined & press cutting parts. We have in-house plastic mould and die manufacturing facility for all plastic parts. All parts are produced to match the original standard quality. We have a well equipped Electronic Repair centre with own developed simulators, automatic in-circuit functional testers and complete test bench facility to test all repaired PCB's.
Business timeline
| | | |
| --- | --- | --- |
| 1966 | | Mr. Vinodrai Mehta and Mr. Harkishan Ghelani , both friends of college days, started H Vinodrai & Co. – a partnership manufacturing firm with a small Engineering workshop in Ahmedabad. |
| | | |
| 1968 | | HV entered into textile spares manufacturing. Started with development of crucial spares for American Machine i.e. Barber Colman Winding Machine. And later on became quality supplier for BC Winding machine spares in India for more than 2 decades. |
| | | |
| 1991 | | With knotting technology becoming obsolete and individual splicer coming into existence with Schlafhorst Autoconer 238, HV started developing whole range of Autoconer spares. Till date HV caters to Schlafhorst autoconer spares for whole range of machines i.e. 138 / 238 / 338 / X5 and is proud to be a leader in autoconer replacement spares & services. |
| | | |
| 1994 | | HV forayed further into Electronics PCB repairs and services for Autoconers. Starts PCB repair service centre at Ahmedabad. |
| | | |
| 2002 | | Mr. Vinodrai takes over as the sole proprietor of H VINODRAI & CO. |
| | | |
| 2007 | | HV bought under auction an Exhaustive lot of Brand New Original spare parts from Schlafhorst Engineering India Limited, Halol, Gujarat. |
| | | |
| | | |